Horses For Sale!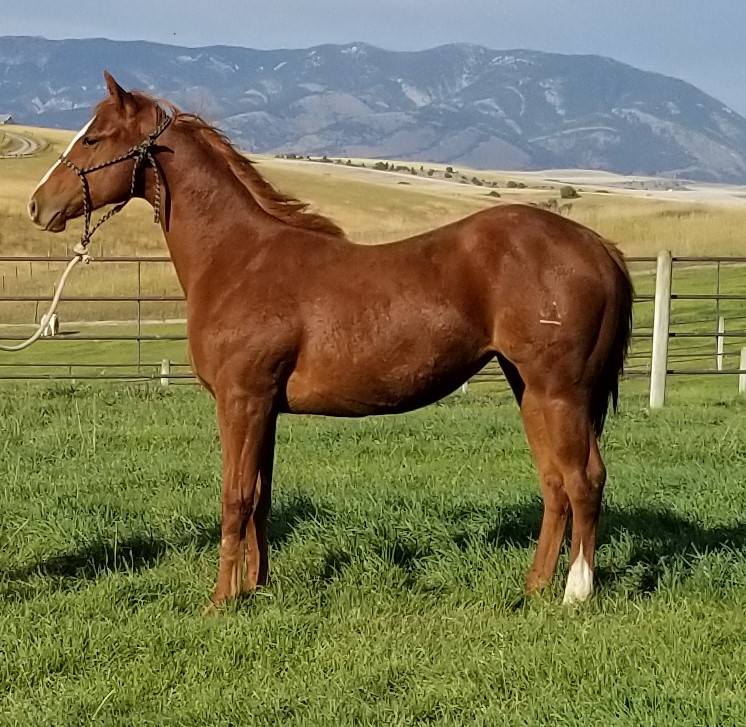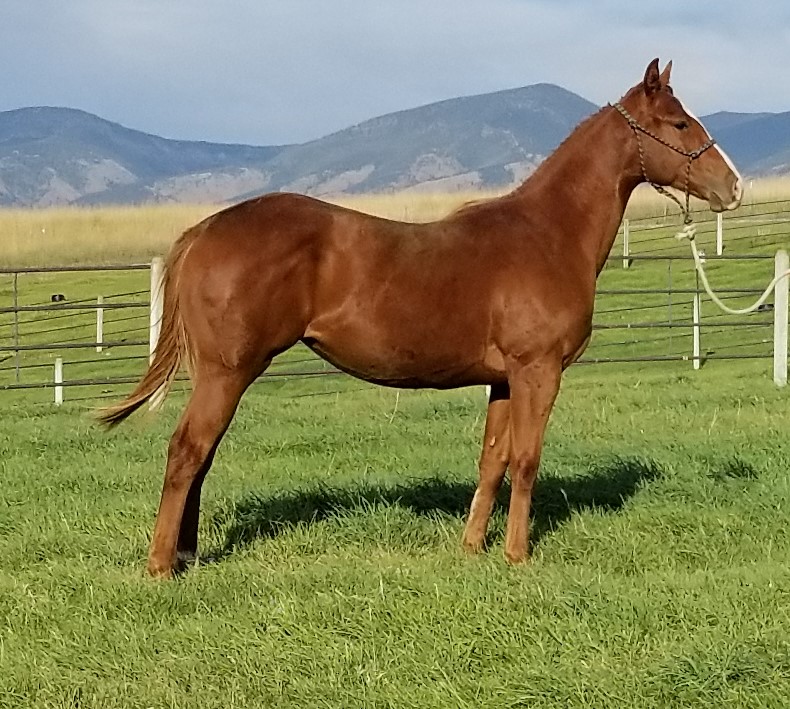 First Down Dash

Stoli

Strawberry Silk

KL Limitless

On A High

Spending On A Star

Four Footed Spender
Limitless Coronas

Mr Jess Perry

Midnight Corona

Corona Cash

Catchingmesomecornas

Dash to Chivato

Dash to Sunrise

Blurrine Sunrise

Limitless Coronas (aka Sky) is a yearling sorrel filly. She is a spit fire colt that is super well built and very correct in the legs. She is very athletic and would make an amazing performance horse! Her Dam is a full sister to Dash to Corona SI 91 aka Pickles (Heidi's horse that she rides and runs barrels and poles on). We really like this filly and think she will do great things. She is eligible for 5 State Futurity, Cowboy State Stallion Incentive, BBR Stallion Stakes and Glacier Chaser and the new KL Limitless Incentive they just came out with.
Sire Side: KL Limitless is becoming a very well know barrel horse sire. He is by the Great Stoli and has a lifetime earnings of $332,237 and is a AQHA Racing money earner. Stoli was a Superior Race Horse and AQHA Racing Champion 3 Year-Old and AQHA Racing Champion 3 Year-Old Colt. He was 1st at the All American Derby. He is the sure of AQHA racing offspring with earnings in excess of $15,000,00 and barrel racing offsping with earnings excess of $156,000. On A High won 1.1 Million on the track and has a speed index of 113 including winning the All American Futurity. His AQHA racing money earner $4,558 and is one of the new up and coming broodmare barrel horse sires.
Dam Side:Midnight Corona SI 101 is a proven sire of Speed, Disposition, Cow Sense and Athletic Ability! Sire of 21 AAA with earnings of $329,424 on race track. He has

barrel winners, rein cow horse winner, and outstanding ranch horse and arena prospects. Midnight Corona is by Mr Jess Perry SI 113. Mr Jess Perry was named AQHA Racing

Champion 2-Year-Old and Champion Two-Year-Old colt in 1994. During his racing career he won 12 of 21 starts and earned $687,184. He is 1 of only three Quarter Horse

Stallions to sire the racing earners of more than $52 Million. He has sired 138 stakes winners and 156 stakes placed horses including 9 running champions. Mr Jess Perry has

been the #1 broodmare sire since 2013. Corona Cash SI 101 and is a 4 Time Champion with earnings of $1,500,00 and a winner for the All American Futurity. She had 19 wins

in 32 races and sold for $230,000 at age of 16 year old for a broodmare. Corona Chick SI 113 and was a Champion 2 Year Old and Champion 3 year old. She also got the Champion Broodmare of the Year title too. She had 15 colts in her career and they averaged $372,700. She is also the dame of Corona Cartel ($557,142). Dash To Chivato is a Grade 1 - winning

son of First Down Dash who has sired the earners of more than $2.9 million. An earner of $150,549 who was the 1999 high-point 3-year-old colt in California, Dash to Chivato,

won four of 19 races, including the Southern California Dervy (G1) and PCQHRA Breeders' Derby (G2). He also was second in four races, including The Classics Futurity (R); and

third in three, including the Los Alamitos Derby (G1). Dash to Chivato has sired 159 winners form 274 starters in seven crops raced, including 13 stakes winners and the earners to

date of $2,951,057. We are excited to cross her on some nice bloodlines that are out there and cannot wait to see what we get out of her.
---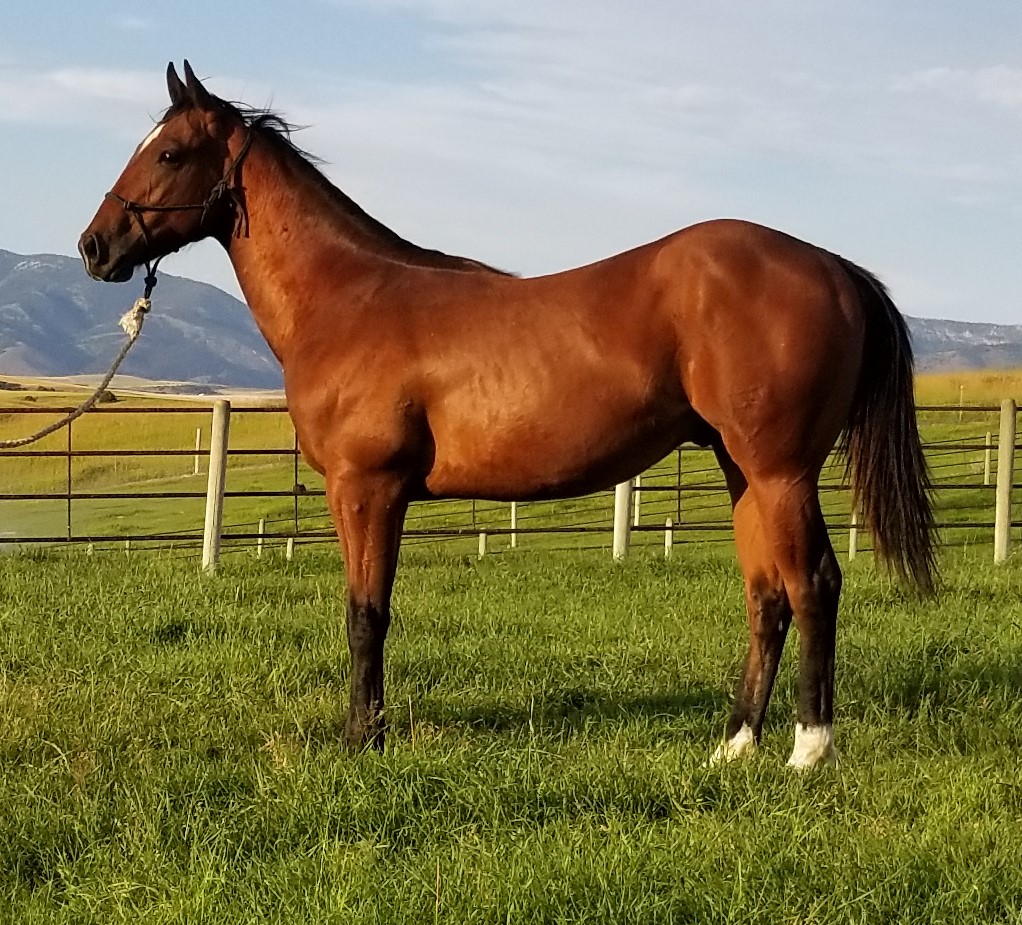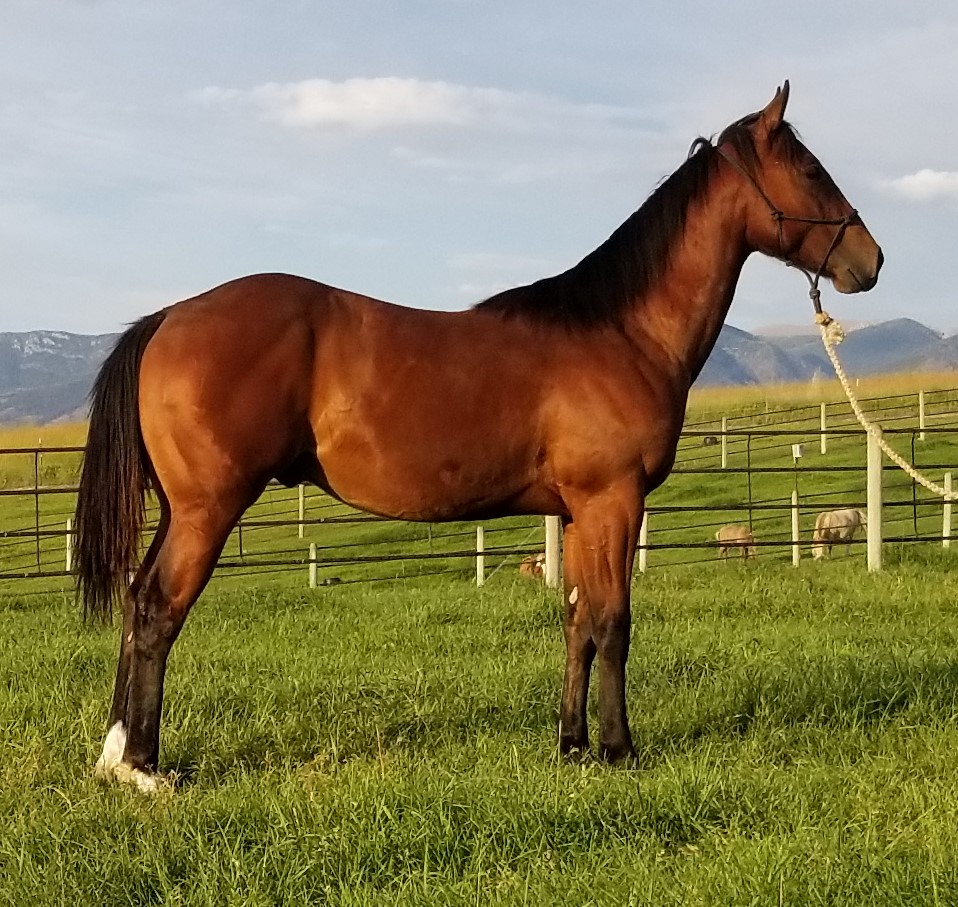 Sun Frost
Frost Jet
Streak Right (Streakin Six)
Jetsettin Joaker
PC Sun Joaker
Joaker McCue
Patches Babe McCue
No Joakin Im Smokin
Frenchmas Guy
Frenchmans Star
Dash With The Stars (Dash Ta Fame)
Miss Royal Frenchman
PC Sun Joaker
Joakers Royal
Bon Ax Silver


No Joakin Im Smokin (aka Tonto) is Yearling solid paint bay stud colt. He is a brick house and big boy. He is very correct and straight. Showing lots of athletic ability and boy can he run! Don't let his guy pass you buy he would make a really nice stud prospect or just look at that pedigree, he is born to be a performance horse!!

Sire side: Streakin Six was one of the top race horses of his generation and is a major influence on the top race horses of today's
generations. He sired nearly 600 winners in 20 crops raced with progeny earnings of more than $17.3 million. Those included Sixty
Chick, Six Fortunes, Sir Alibi, Dean Miracle and Sterling Sport and track record setter and All-American Futurity winner Noblesse
Six ($1,125,024) and 67 other stakes winners. Streakin Six is also in the top half dozen all-time leading broodmare sires. His daughters
have produced the earners of more than $26.6 million, led by the track record setting champion and All-American Futurity winner AB
What A Runner ($1,342,389. Streakin Six also sired 32 AQHA point earners who won two performance world championships and two
reserve world championships. Sun Frost is a dominant sire of standout barrel, roping, cutting, reining and rodeo competition horses.
His progeny earnings of $1.9 million and grand progeny earnings near $3 million. He is the sire of French Flash Haw "aka Bozo" 4 time
WPRA World Champion Barrel Horse and AQHA/PRCA Horse of the Year. Sun Frost is also the sire of Frenchmans Guy a 4-time leading
barrel horse sire, and other performance horse stallions including PC Frenchmans Hayday and many more..

Dam side: Frenchmans Guy is the decades #1 Leading Living Sire with progeny leading over $11 Million. Dash Ta Fame is the legendary
AQHA Champion Sire! He is #1 Leading barrel racing sire in America for 15 years with $39+ Million earnings in racing and arena! Dash
Ta Fame is the most influential sire barrel racing history will ever know!
---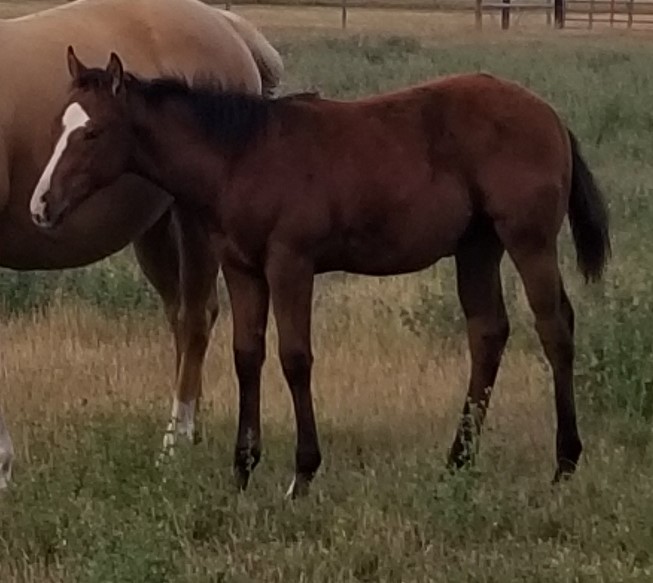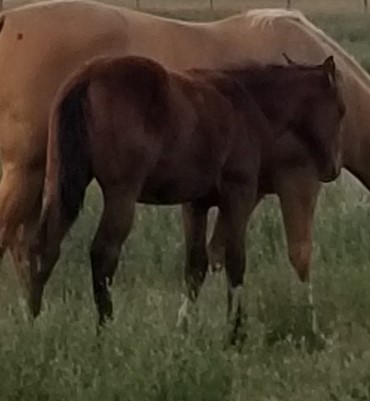 Steakin La Jolla

Mr Jess Perry

Scoopie Fein

Midnight Corona

First Down Dash

Corona Cash

Corona Chick

Sevencornasatmidnight

Frenchmans Guy

Frenchmans Star

Dash With the Stars (Dash Ta Fame)
Miss Royal Frenchman

PC Sun Joaker (Sun Frost)

Joakers Royal

Bon Ax Silver

Sevenconrasatmidnight (aka Seven) is a bay weanling stud colt. He is APHA registered but solid color. He is super athletic and we feel would make a really nice barrel or

rope horse. Seven is very straight and correct confirmation.